Overview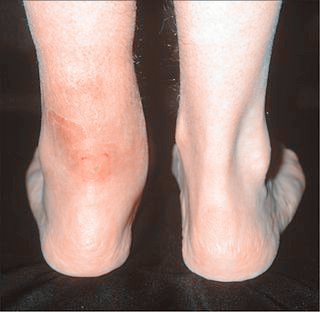 You?re a prime candidate for acquiring Achilles Tendonitis if you?re a runner or some other kind of athlete requiring heavy use of your calves and their attached tendons. Then again, -anybody- can get tendonitis of the Achilles tendons. All for very predictable reasons. Perhaps you have Achilles Tendon pain from cycling. Or standing at work. Or walking around a lot. Anything we do on our feet uses our lower leg structures, and the Achilles tendon bears LOTS of torque, force, load, etc. The physical dynamic called Tendonitis can show up anywhere. On the Achilles Tendon is as good a place as any. Repetitive strain injury can show up anywhere in the body that there is repetitive strain. It's an obvious statement, but worth paying attention to.
Causes
Achilles tendinitis can be caused by overly tight calf muscles, excessive running up hill or down hill, a sudden increase in the amount of exercise, e.g. running for a longer distance, wearing ill-fitting running shoes, such as those with soles that are too stiff, or wearing high heels regularly, or changing between high heels all day and flat shoes or low running shoes in the evening. Overuse is common in walkers, runners, dancers and other athletes who do a lot of jumping and sudden starts/stops, which exert a lot of stress on the Achilles tendon. Continuing to stress an inflamed Achilles tendon can cause rupture of the tendon - it snaps, often with a distinctive popping sound. A ruptured Achilles tendon makes it virtually impossible to walk. An Achilles tendon rupture is usually treated by surgical repair or wearing a cast.
Symptoms
There will be a gradual onset of achilles tendon pain over a period of weeks, or even months. The pain will come on during exercise and is constant throughout the training session. Pain will be felt in the achilles tendon when walking especially up hill or up stairs. This is because the achilles is having to stretch further than normal. There is likely to be stiffness in the Achilles tendon especially in the morning or after a long period of rest. This is thought to be due to adhesions between the tendon sheath and the tendon itself. Nodules or lumps may be found in the achilles tendon, particularly 2-4cm above the heel and the skin will appear red. Pain and tenderness will be felt when pressing in on the achilles tendon which is likely to appear thickened or swollen. A creaking sensation may be felt when press the fingers into the sides of the tendon and moving the ankle.This is known as crepitus.
Diagnosis
Physicians usually pinch your Achilles tendon with their fingers to test for swelling and pain. If the tendon itself is inflamed, your physician may be able to feel warmth and swelling around the tissue, or, in chronic cases, lumps of scar tissue. You will probably be asked to walk around the exam room so your physician can examine your stride. To check for complete rupture of the tendon, your physician may perform the Thompson test. Your physician squeezes your calf; if your Achilles is not torn, the foot pain endometriosis (
http://dawn4nielsen15.snack.ws/
) will point downward. If your Achilles is torn, the foot will remain in the same position. Should your physician require a closer look, these imaging tests may be performed. X-rays taken from different angles may be used to rule out other problems, such as ankle fractures. MRI (magnetic resonance imaging) uses magnetic waves to create pictures of your ankle that let physicians more clearly look at the tendons surrounding your ankle joint.
Nonsurgical Treatment
Initial treatment consists of medication and ice to relieve the pain, stretching and strengthening exercises, and modification of the activity that initially caused the problem. These all can be carried out at home, although referral to a physical therapist or athletic trainer for further evaluation and treatment may be helpful. Occasionally a walking boot or cast may be recommended to immobilize the tendon, allowing the inflammation to settle down. For less severe cases or after immobilization, a heel lift may be prescribed to reduce stress to the tendon. This may be followed by an elastic bandage wrap of the ankle and Achilles tendon. Orthotics (arch supports) may be prescribed or recommended by your physician. Surgery to remove the inflamed tendon lining or degenerated tendon tissue is rarely necessary and has shown less than predictable results.
Surgical Treatment
Your doctor may recommend surgery if, after around six months, other treatments haven?t worked and your symptoms are having an impact on your day-to-day life. Surgery involves removing damaged areas of your tendon and repairing them.
Prevention
Do strengthening and stretching exercises to keep calf muscles strong and flexible. Keep your hamstring muscles flexible by stretching. Warm up and stretch adequately before participating in any sports. Always increase the intensity and duration of training gradually. Do not continue an exercise if you experience pain over the tendon. Wear properly fitted running and other sports shoes, including properly fitted arch supports if your feet roll inwards excessively (over-pronate).
برچسب:
foot pain differential diagnosis
،
foot pain burning
،
foot pain in the arch
،
امتیاز:
بازدید:
+
نوشته شده:
۱۱ مرداد ۱۳۹۶
ساعت:
۱۱:۴۹:۳۲
توسط:Clint Donahue موضوع: